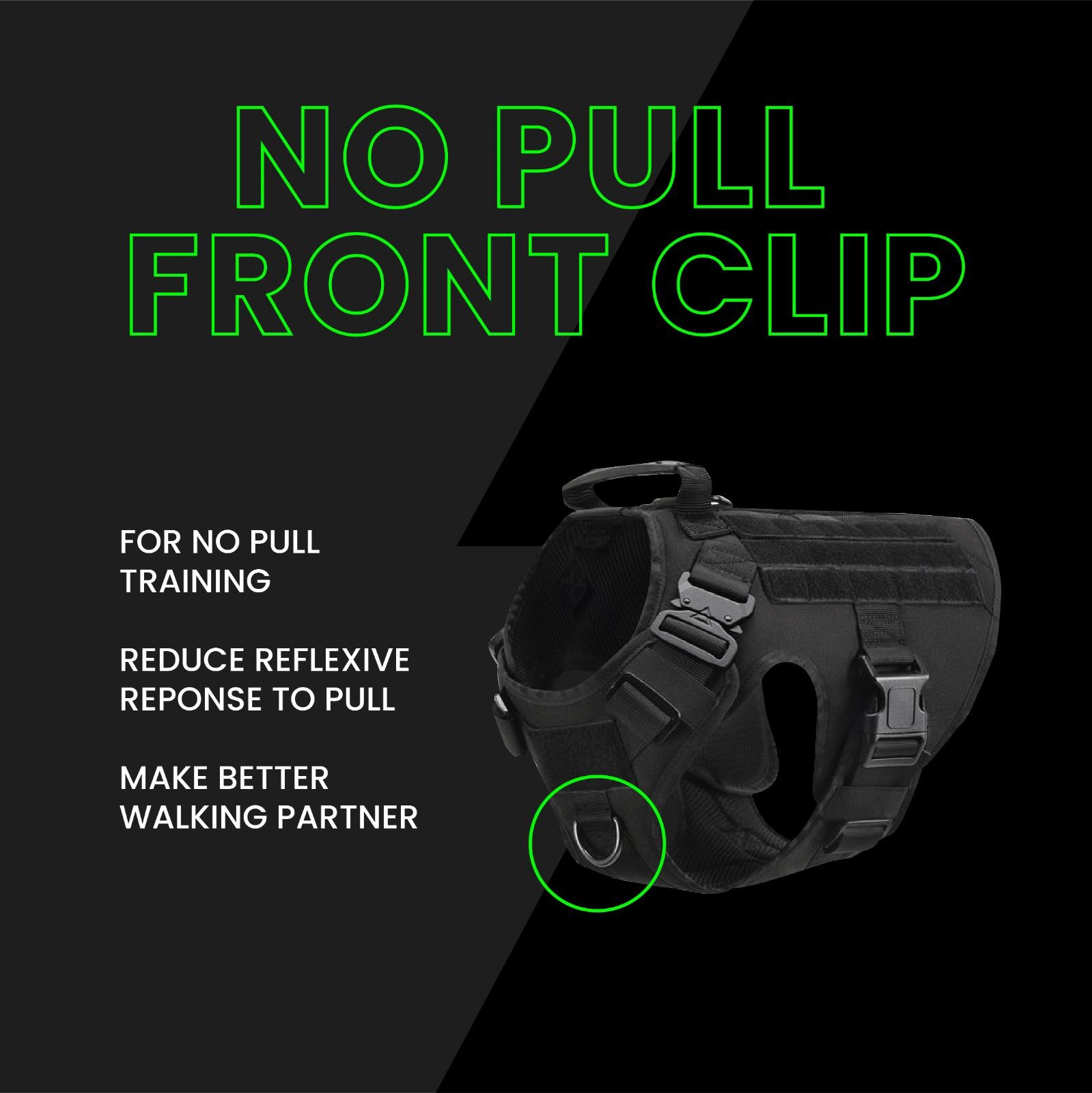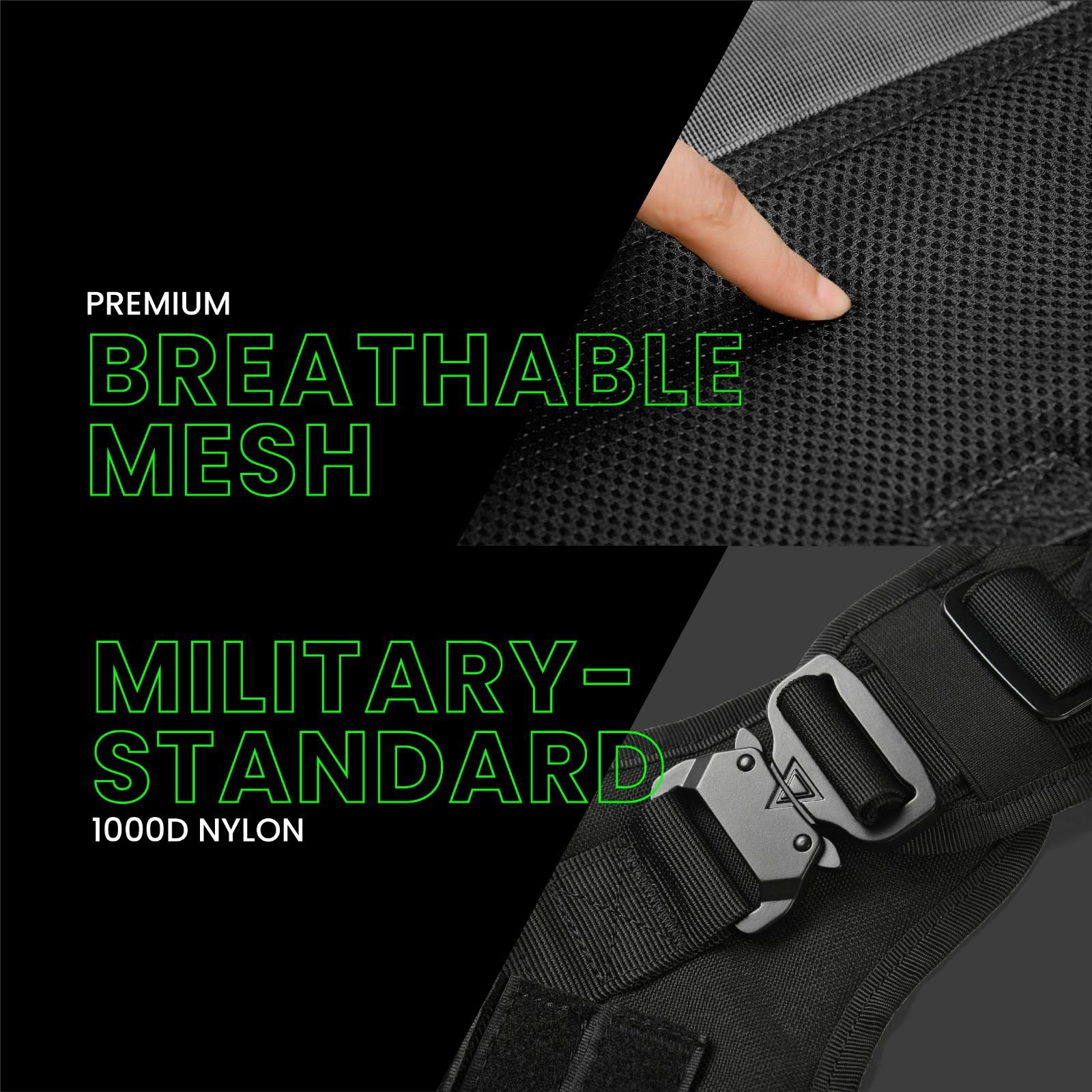 Persistent or strong pulling when wearing a flat collar can cause permanent damage to the dog's sensitive throat area. This Military dog vest is specially designed to distribute the pressure over the dog's chest and protect the throat. Vets recommend walking the dog with a harness!
✅ No shocks
✅ Security Check
✅Perfectly adjustable size
The Always Prepared Tactical K9 dog harness is ideal for large dogs such as German Shepherd, Belgian Malinois, Golden Retriever, Huskie, Labrador, etc. Perfect for walking, jogging, training, hunting and working dogs!
Size guide: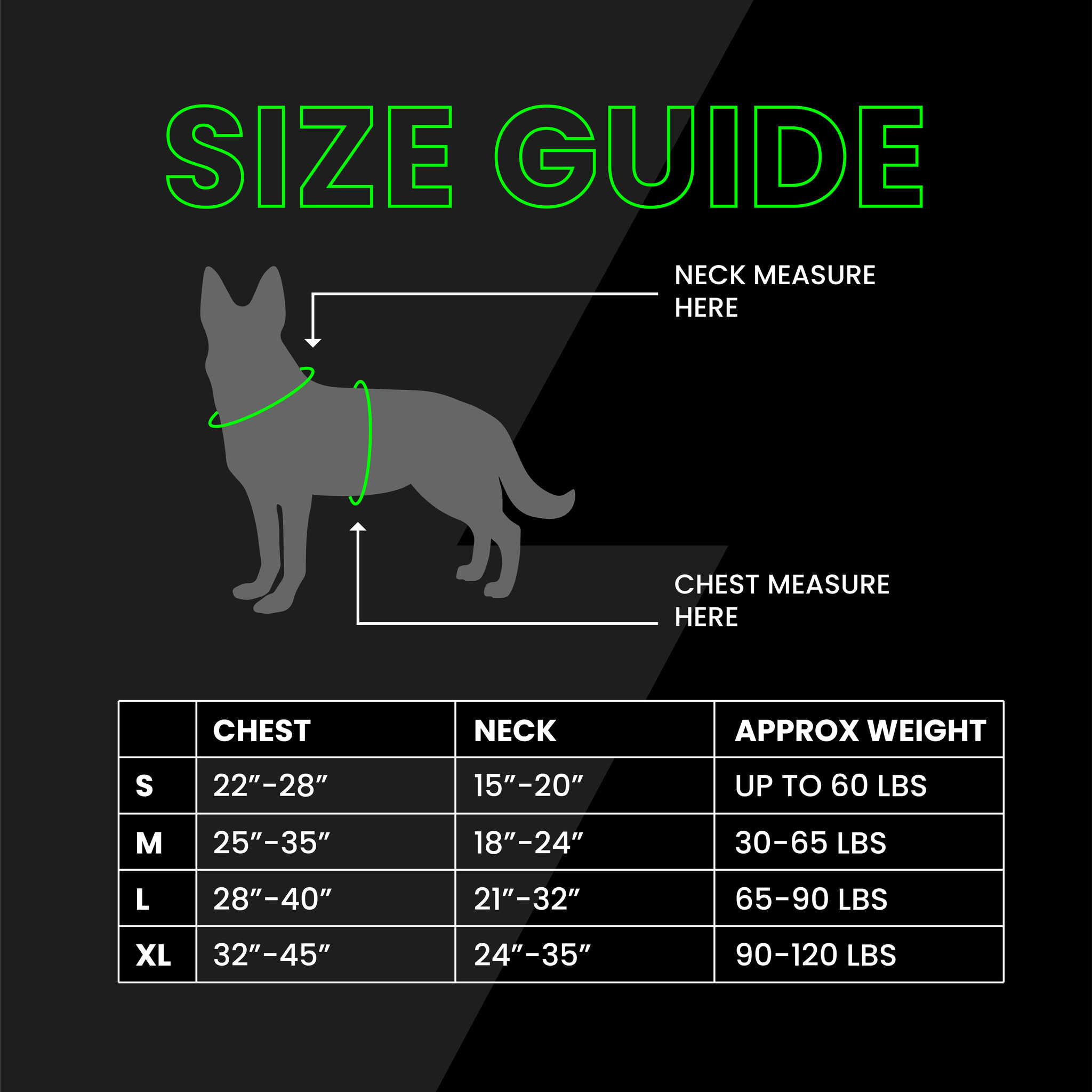 Why choose a tactical dog vest?
Police/Military/Working Dogs: Maximum Control, Protection, and Additional Equipment Storage
Companion dogs and for hunting/outdoors: Carry their own food and water to help train your dog and expend energy.
Assistance dogs: For carrying medical supplies, water and emergency items, ID and tags through our pouches that can be easily attached to the vest.
Anti-pull clip
For better training and reducing the reaction to pulling while walking and working.
metal buckles
K9 tactical harness includes 4 metal buckles with 992 LBS Proof-Load test on the dog's shoulder which is the heaviest load point when pulling.
Handle
Always Prepared tactical harness includes a grab handle on top of the vest with a 110 LBS Proof-Load test.
Durable material
This Tactical Dog Vest is Heavy Duty and made of 1000D Nylon Durable material, breathable and soft.
Did you know that?
Attaching a leash to a dog's collar can indeed cause physical harm to the dog. A dog's neck is full of very delicate and important physiology that keeps your dog healthy. Just one incident of pulling on a collar can potentially cause serious damage to the health of the dog, just as damage to our own neck can cause permanent health problems. This military/army dog harness will absolutely prevent suffocation.
How can a harness benefit my dog?
SECURITY CHECK
ELIMINATING NECK STRETCH / DISTRIBUTING BODY PRESSURE
LESS PULLING: For better walks for you and your dog.
SIMPLE ON/OFF: Hassle-free on/off.
STURDY RELEASE BUCKLE: The buckle on the side is durable and shatter-resistant, it is very convenient to unravel.
ADJUSTABLE STRAPS: Neck and chest straps are adjustable, it will not give your dog a feeling of restraint and fear.
EASY HANDLE: Multiple uses including helping dogs walk, greater control and quick push off.
COMFORTABLE: Well padded with 8 pressure relief points that distribute pressure evenly over the dog's body, preventing pulling and choking.
Always Prepared Tactical No Pull Dog Harness is heavy duty, made from 1000D nylon with heavy duty stitching for extra durability and portability, suitable for all field use. The shoulder buckles can bear a high tensile force, so that your dog is safely secured during training, hunting, work and other occasions. Well padded in every pressure load point to protect your dog's skin, while the breathable air mesh keeps your dog ventilated and comfortable!
We offer a 60-day warranty on ALL our products and our staff will be happy to help you with any problems. Our dedicated staff provides customer support 24 hours a day, 7 days a week. 100% customer satisfaction guaranteed!
What our customers say: 95% of customers love their Always Prepared Tactical vest!