Sustained or strong pulling when wearing a flat collar can cause permanent damage to the dog's sensitive throat area. This Always Prepared © Pro K9 Dog Harness is specially designed to distribute the pressure across the dog's chest and protect the throat. Vets recommend walking the dog with a harness!
✅ No shocks
✅ Security check
✅ Perfectly adjustable size
The Always Prepared © Pro K9 Dog Harness is ideal for medium - large dogs such as German Shepherd, Belgian Malinois, Golden Retriever, Huskie, Labrador, etc. Perfect for walking, jogging, training, hunting and working dogs!
Why choose a tactical dog vest?
Police/Military/Working Dogs: Maximum control, protection and extra storage for gear.
Companion and hunting/outdoor dogs: For carrying their own food and water, to help your dog exercise and expend energy.
Service Dogs: For carrying medical supplies, water and emergency supplies, ID and tags through our pouches that easily attach to the vest.
Anti-pull clip
For better training and reducing the reaction to pulling while walking and working.
Metal buckles
Always Prepared © Pro K9 Dog Harness contains 4 metal buckles with 450 KG Proof-Load test on the dog's shoulder, which is the heaviest load point when pulling.
Handle
Always Prepared tactical harness includes 2 handles on top of the vest with a 50 KG Proof-Load test.
Durable material
This Pro K9 dog harness is Heavy Duty and made of 1000D Nylon Durable material, breathable and soft.
Size chart: (see also product photos)
SIZE S - Chest: 55-71 CM - Neck: 38-50 CM - Weight: UP TO 28 KG
SIZE M - Chest: 63-89 CM - Neck: 45-61 CM - Weight: UP TO 13.5-30 KG
SIZE L - Chest: 71-101 CM - Neck: 53-81 CM - Weight: UP TO 30-40 KG
SIZE XL - Chest: 81-114 CM - Neck: 61-89 CM - Weight: 40-50 KG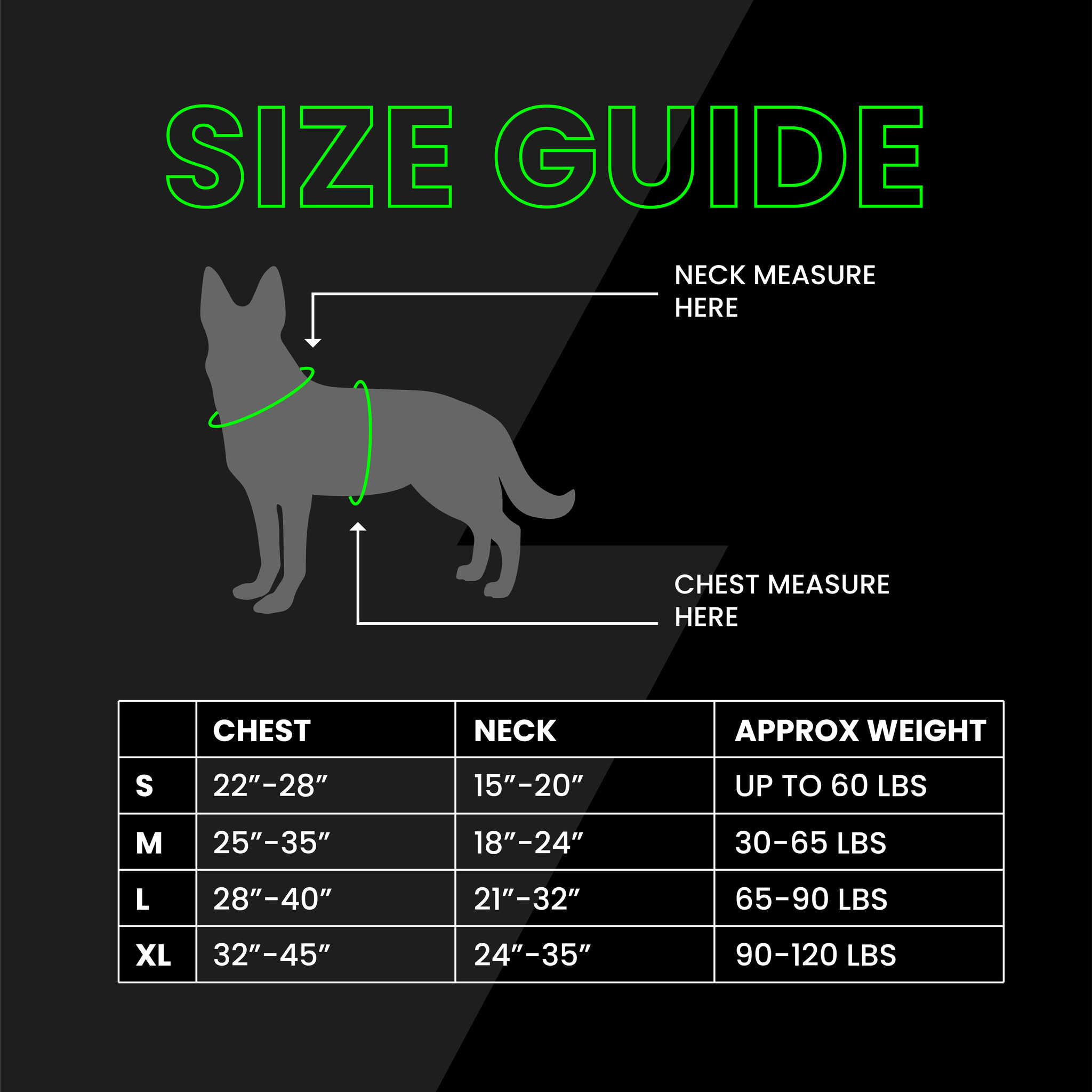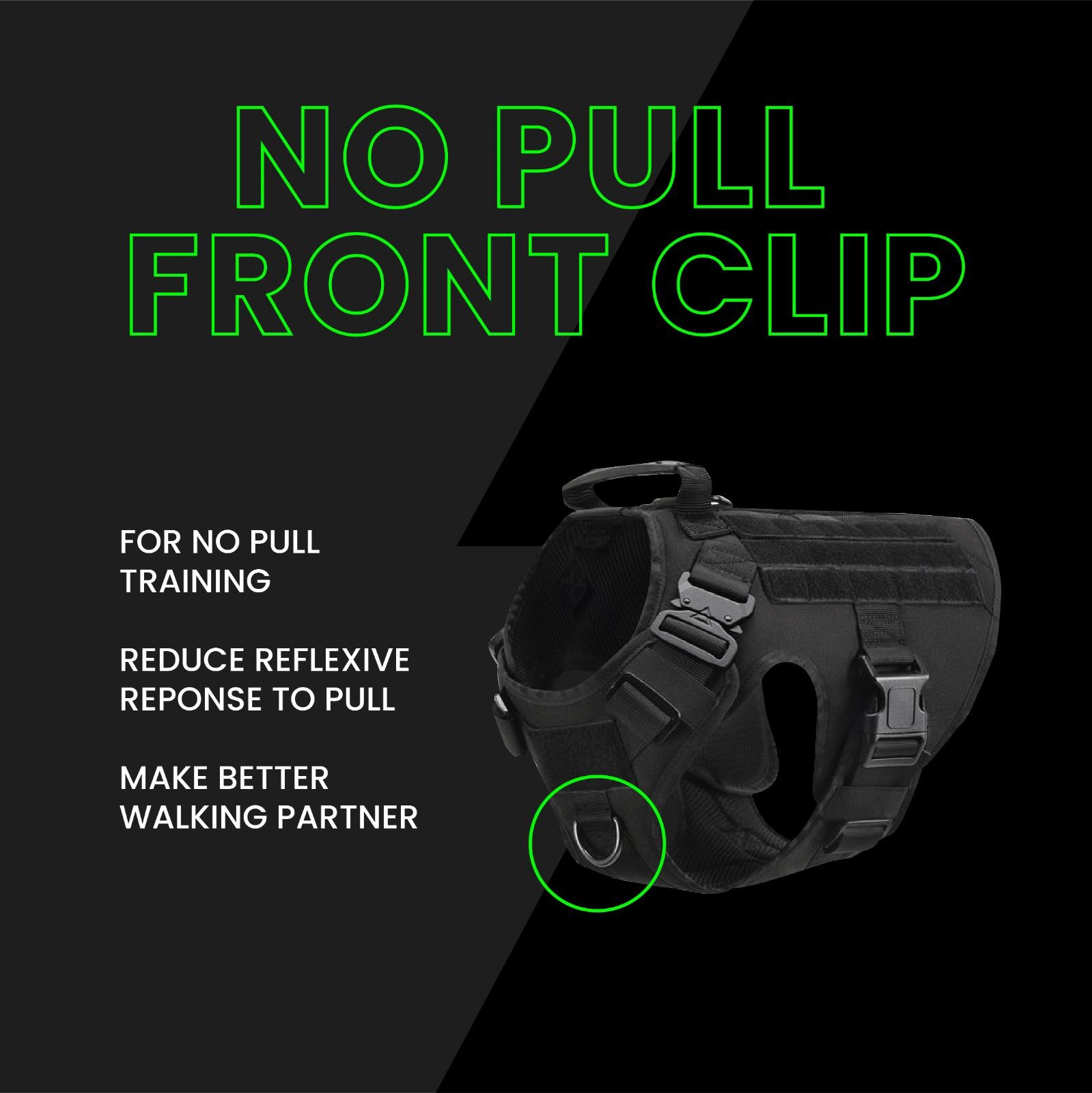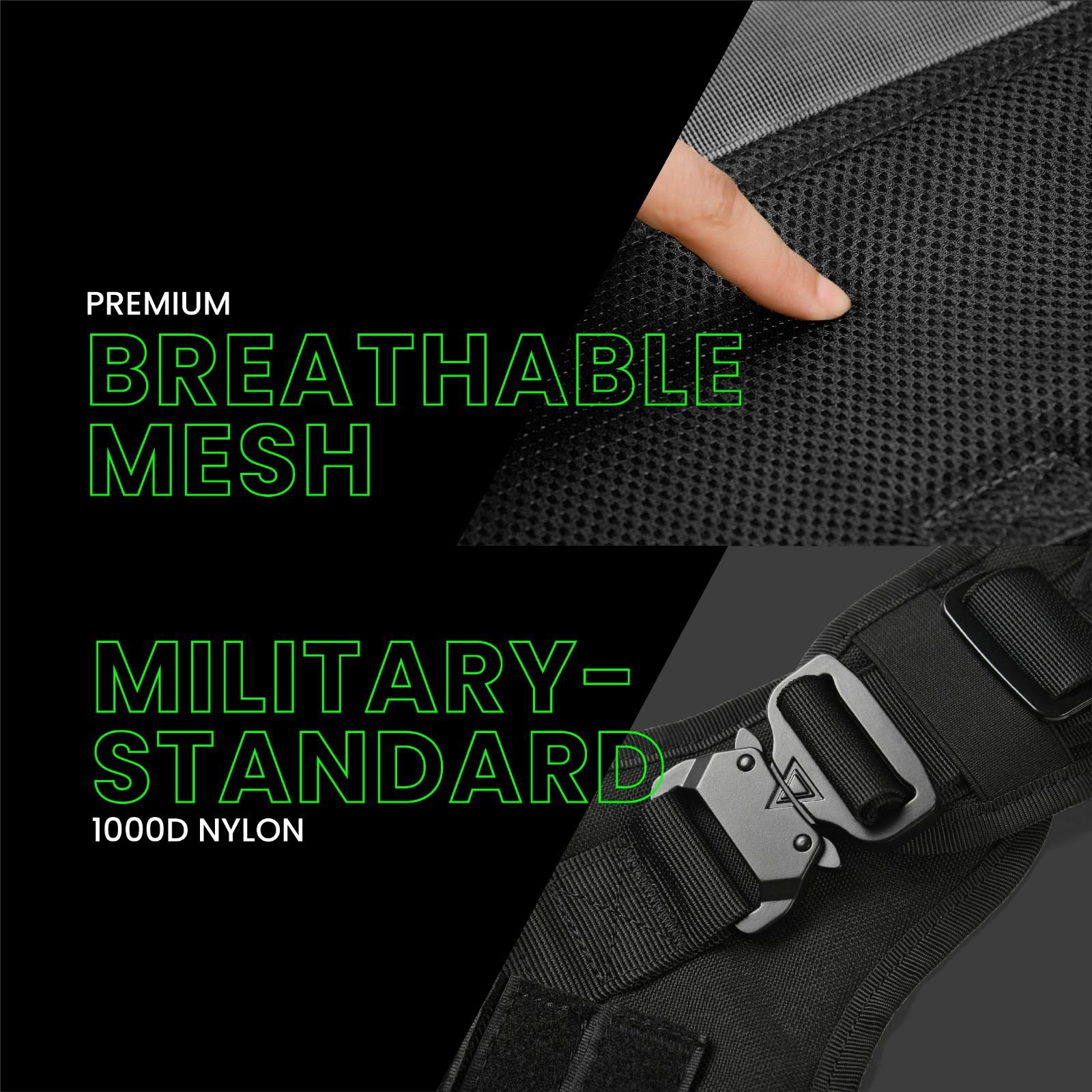 Did you know that?
Attaching a leash to a dog's collar can indeed cause physical harm to the dog. A dog's neck is full of very delicate and important physiology that keeps your dog healthy. Just one incident of a collar being pulled can potentially cause serious damage to a dog's health, just as damage to our own necks can cause lasting health problems. This Pro K9 dog harness will absolutely prevent suffocation.
How can the Pro K9 Dog Harness benefit my dog?
SECURITY CHECK
ELIMINATES NECK STRETCHING / DISTRIBUTES BODY PRESSURE
LESS PULLING: For better walks for you and your dog.
EASY ON/OFF: Hassle-free on/off.
STURDY UNLOCKING: The buckle on the side is durable and shatter-resistant, it is very convenient to unlock.
ADJUSTABLE STRAPS: Neck and chest straps are adjustable, it will not give your dog a sense of restraint and fear.
EASY HANDLES: Multiple uses, including helping dogs walk, more control, and quick take-off.
COMFORTABLE: Well padded with 8 pressure relief points that distribute pressure evenly over the dog's body, preventing pulling and choking.
Always Prepared © Pro K9 Dog Harness is heavy duty, made of 1000D nylon with heavy duty stitching for extra durability and portability, suitable for all field use. The shoulder buckles can bear a large pulling force, securing your dog safely during training, hunting, work and other occasions. Well padded in every point of pressure stress to protect your dog's skin, while the breathable air mesh keeps your dog ventilated and comfortable!
To wash
The Always Prepared © Pro K9 Dog Harness is made of 1000D nylon and can therefore be washed in the washing machine, but try to wash it by hand first. When machine washing, use only the 'gentle' program WITHOUT spinning. DO NOT use detergents or other solvents such as bleach or degreaser. Use ONLY mild soap and make sure all metal buckles are removed. Putting the Pro K9 dog harness in the washing machine shortens the life of the harness.
We recommend washing the harness by hand with lukewarm water and mild soap, spot cleaning with a soft brush or cloth. Rinse thoroughly and allow to air dry.
We offer a 60-day warranty on ALL our products and our employees are happy to help you with any problems. Our dedicated employees provide customer support 24 hours a day, 7 days a week. 100% customer satisfaction guaranteed!
⚠️ The right to return or exchange items is excluded for all custom products. That means all printing and embroidery. It is personalized and cannot be reused. If the name or color is incorrectly embroidered or printed by us, you have the right to exchange this item.
What our customers say: 95% of customers love their Always Prepared Tactical vest!